Catalogues
Gaston Lachaise 1882–1935
Louise Bourgeois, Jean Clair, Paula R. Hornbostel, Hilton Kramer
ISBN13: 9781588211576
ISBN: 1588211576
PUBLISHER: The Lachaise Foundation/Gallimard
PAGES: 200
ILLUSTRATIONS: 94 col., 37 b&w
PRICE: $30.00 Paperback
Exhibition catalogue for Gaston Lachaise (1882-1935), which toured Europe from 2003-2007, and the United States from 2007-2010. The exhibition was organized by The Lachaise Foundation, which serves to protect and promote the legacy of Lachaise for the public benefit. The exhibition visited the UK's Henry Moore Institute, Roubaix's La Piscine, Rome's National Gallery and Museo Andersen, SW France's Musée Zadkine and Musée Rignault, Budapest's Szepmuveszéti and Prague's Veletržní Palác. In the U.S., it visited the New Orleans Museum of Art, Dallas' Nasher Sculpture Center and Florida's Naples Museum of Art. Essays by the former head of the Musée Picasso, Jean Clair, the artist Louise Bourgeois, the critic Hilton Kramer and Lachaise himself make for exciting reading, with never-before published nude photographs in Paula Hornbostel's essay on Lachaise's love letters.
For a copy of the English edition, kindly send a check for $35 (shipping within US), $64 (shipping overseas)
Gaston Lachaise: Exuberance on Paper
Paula Hornbostel, with forwards by Philippe de Montebello and Linda Nochlin
Drawings catalogue accompanied drawings exhibition at the New York Studio School, Spring 2016
32 pages; 43 plates; 20 figure illustration
Please send a check for $13.00 (shipping within US), $30 (shipping overseas)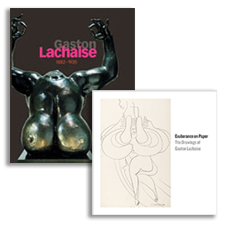 SPECIAL PURCHASE
One copy of each catalogue.
Please send a check for $45 (shipping within US), $75 (shipping overseas)
SEND YOUR ORDER WITH PAYMENT TO:
The Lachaise Foundation
575 Madison Avenue, 10th floor
New York, NY 10021
(212) 605-0380
info@lachaisefoundation.org